I've been asked to write a love letter on why I wrote kintsugi wellness. 
It took me three years to write, photograph, direct and produce this book. I went completely broke writing her. My bank account draining forced my hand to get really creative + also to get the courage to photograph her myself. I was scared. Now, we have three days left to support…
I sat down with mom for dozens of hours, to edit all the traditional Japanese traditions..
Of course, at some point I said – ok, it's "as good as I could possibly do", it's not perfect …..it's never going to be perfect, (and we are continuously practicing "wabi sabi").
A vast majority was written in Japan, while I was alone and grieving much loss — I actually wrote the book for you, to heal, to love, to grow. I did the work.
You see, I was writing in a very crowded wellness space, and as one of the original pioneers in this space, I decided it was time to walk away. I wasn't going to play small or basic.
My grandmother then, was passing away in Japan, an unfit relationship ended, I wasn't happy with writing "basic" or "clickbait".
I needed to heal, to love to grow… I needed to go deep, and seal my past wounds. I needed to shine my brightest light, and stop being so afraid…
I want you to know– most of my career I have been scrutinized + criticized– being a public person is not easy. I never cared to be in the spotlight… rather, I want my work to shine (kaizen) + to help others:) (osettai) and that is all. Writing + creating content with integrity is how I have been able to do this.
I urge us all to let up on ourselves and one another. Yes, you will see imperfections in my work + my friends, that is what I am currently learning to let go of… Wabi sabi. Be gentle with thyself and others.

Once I faced my fears, took my mask off, and did the work –I began filling my cup with "the work".
I practice "Kintsugi Wellness"
What is the work? You can find the chapters that make up the book on my instagram page. Follow for even more feel-good work!
If you pre-order now! You'll GET the BOOK on LAUNCH DAY!!
If you buy a book for a friend- YOU'LL get GOOD KARMA forever. Makes the perfect birthday, Mother's Day or friendship gift!
If you pre-order NOW, email us your receipt to: Info@CandiceKumai.com + you'll be entered to win wellness prizes automatically!
See you on THE WENDY WILLIAMS SHOW — TUES APRIL 17TH! LAUNCH DAY!
Please check my IG stories + IG live for ALL the work this week! + Send me a comment on Lewis Howes, Lori Harder, One Part Pod + Black Girl in Om PODCASTS!! I had the best time!! #MaskOff #KintsugiWellness
Events? Why yes– they are coming – please stay tuned on my IG for all announcements!
For now, here's my warm-up!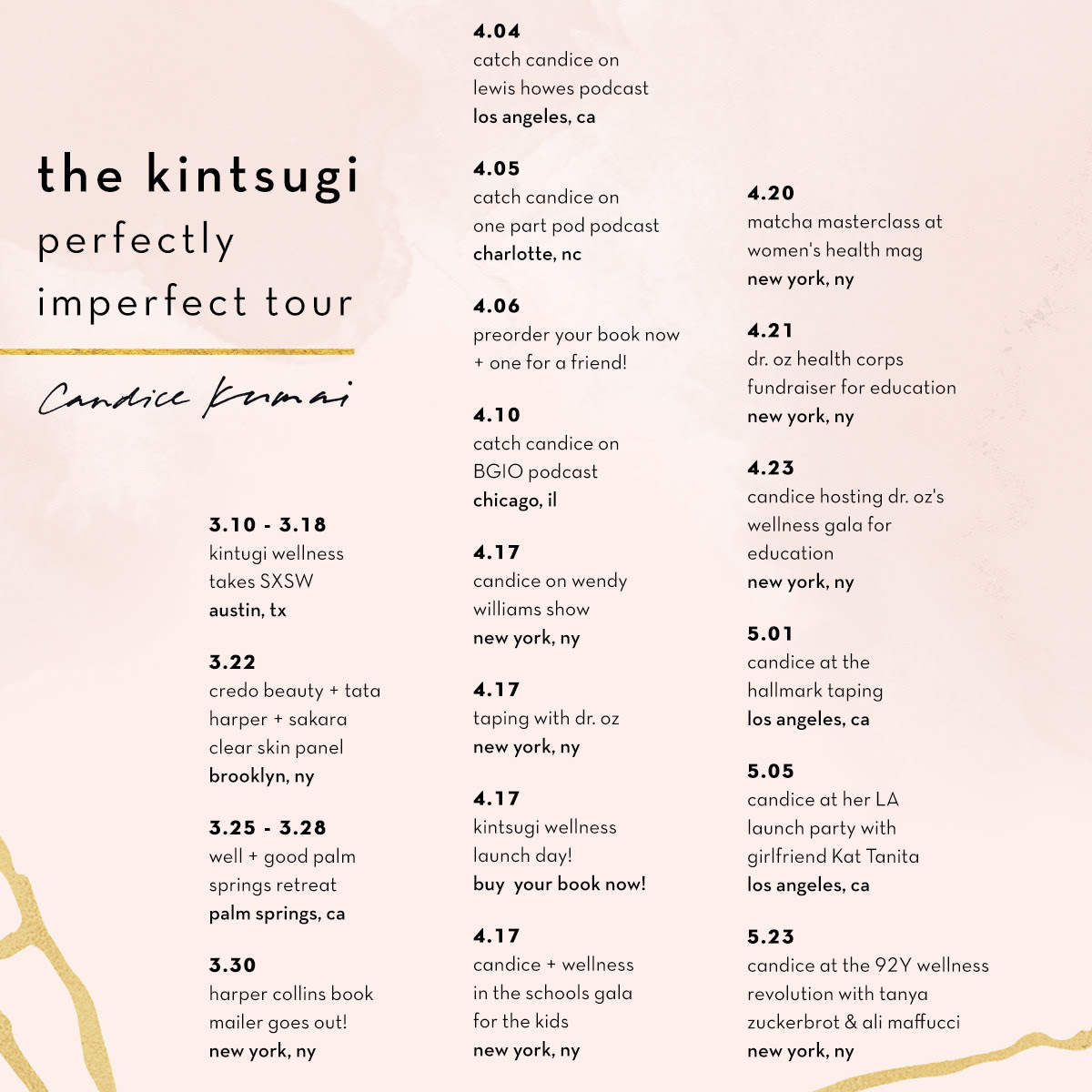 domo arigato gosaimashita! xxx